Click HERE to enter the lace flower pin giveaway!!
For awhile now I have been checking out "What I Wore Wednesday" over at the Pleated Poppy blog. I am a little obsessed with shopping and clothes and thought it looked like fun. I decided to try it out. The outfites go backwards from yesterday. (So I was spacey and forgot at the end of the week, not the beginning.)
When I look at these posts I always find cute clothes and wonder if the item is something I would be able to purchase. For this reason I have
written in red all items that I purchased recently enough that I think you could still find it in the store.
Drop me a line if you have questions.
Here goes nothing! Remember that I am a teacher and I have to dress according my school dress code.
Tuesday
I wore the same thing that I wore to the
fashion show
(and yes even used the same picture).
Cardigan- Old Navy
Pants- Maurices (I lied before when I said Wet Seal)
Shoes- Payless
Lace cami- Downeast Basics


Monday

I forgot to take a picture. But click
HERE
to see the cardigan I wore from Target. It says out of stock but if you hurry in you might be able to find one in stores. I just bought it 2 weeks ago (and it didn't cost that much). I wore it with a purple shirt underneath, black skinny pants and gray flats.
Sunday
I didn't get a picture of my outift for
church
but if you click
HERE
and scroll down to the bottom picture you can see what I wore. The dress and cardi are from Target and the shoes are from Payless.
You'll also get to see a rare picture of my face. I usually crop it out because I have a funny look on my face!

Saturday
Capris: Aeropostale
Wedges: Target
Belt: from a JC Penny shirt/belt combo

My necklace was too long so I tied it in a knot to make a shorter 'Y' necklace.
Friday
Shirt: Target
Capris: I can't remember
Wedges: Cupid brand from Forever Young Shoes
Necklace: Yellow Blackbird!

Thursday
White blouse: a gift, Express
Pearl necklace: a gift, Target
Belt: Came on another skirt I bought a long time ago
Skirt: Bought a long time ago, forgot
Shoes: a gift, Coldwater Creek
(So this outfit was virtually free!)
Wednesday
First day of school!
Dress: $12, Ross
Cardi: $15, Target
Shoes: a gift, Steve Madden


After I took the picture I switched to this necklace, $8, Charlotte Russe. Don't mind the hairs all over my shirt. I had just finished doing my hair and hadn't cleaned them off yet. : )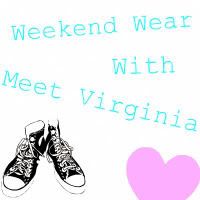 Well, that was fun. What do you think? Are my clothes even remotely interesting to look at? Should I do this again? Did you have a favorite outfit?